Empowerment through knowledge sharing and education is at the heart of NRL's mission to promote the quality of tests and testing for infectious disease, globally.
NRL's scientific consulting, training and mentoring activities are driven by the principles of self-sufficiency, sustainability, and cultural sensitivity.  Our programs are customised and targeted to meet the priorities and needs of our partners and drive improvements in the quality of infectious disease testing performed both in laboratories and community-based testing.
An initial assessment of capacity supports the design of customised training programs. By delivering relevant training workshops and subsequent one-on-one mentoring sessions, NRL fosters the development of long-term professional relationships, based on trust and respect.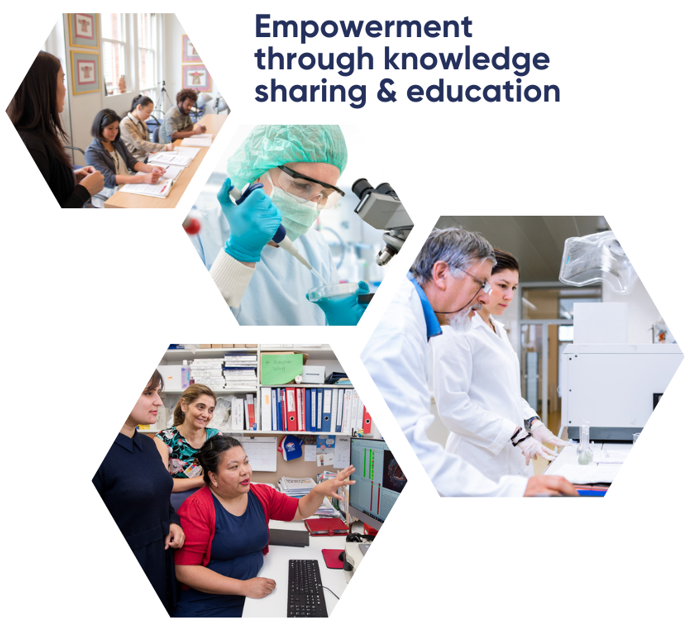 The scope of NRL's consulting, training and mentoring activities ranges from:

Providing one-off technical training or advice to troubleshoot and address specific knowledge gaps, or design and/or verify a new process or program.

Performing capacity assessments and gap analyses to identify and inform capacity building strategies and workplans.

Design and delivery of customised training programs including mentoring sessions aimed at addressing specific needs, priorities or challenges, at an organisational or national level.  For example, supporting the development of National External Quality Assessment Schemes or supporting an organisation to undertake the journey towards full quality accreditation.

Delivery of train-the-trainer programs to empower selected local trainers to educate and mentor others.

 

Development of guidance documents in collaboration with partners such as the World Health Organization. 

NRL provides consultancy, training and, mentoring services in the following areas:

Quality Management Systems, including capacity development towards attaining compliance and/or accreditation to national and international standards (e.g. ISO

15189, ISO

17043 and Codes of GMP).

 

External Quality Assessment Schemes (EQAS), including the design and implementation of a sustainable national EQAS to quality assure testing of local laboratories; and reduce the reliance on international, expensive and inconsistent support.

Test Kit

evaluation

and supporting reference laboratories to design protocols, maintain appropriate samples and assess key performance characteristics of a test kit at a given point in time; including the use of data to recommend test kits for use in-country, often as part of a regulatory framework.

 

Testing Algorithms including support to reference laboratories for

the development of a national testing strategy that is appropriate for in-country context, and the design and validation of a testing algorithm through the testing of carefully characterised samples

in different assay combinations.

 

Laboratory Quality Control

 

Point-of-Care Quality Assurance

 

Equipment Procurement, Validation and Maintenance

 

Biosafety and Biosecurity 

 

Capacity Assessments

 

Where do we work?

We have significant experience working with Ministries of Health, international development partners, and laboratory and community-based testing personnel in a range of countries. 


(Cambodia, Laos, Indonesia, Philippines, Myanmar, Vietnam, Mongolia, India, Bhutan, Tajikistan, Turkmenistan,
Kazakhstan, Jordan, Timor-Leste, Thailand, Fiji, China, PNG,Columbia, Israel, Malaysia, Netherlands, Ukraine, United Kingdom, Australia)

Current Projects

Since 2020, NRL has been collaborating with The Mérieux Foundation and Integrated Quality Laboratory Services (IQLS) through the South-East Asia Laboratory Strengthening (SEALAB) project.  NRL's role is to strengthen and support laboratory quality management systems at selected laboratories in Cambodia and Laos, through laboratory assessments, training workshops and one-on-one mentoring, delivered virtually and in-person. We acknowledge and thank the Indo-Pacific Centre for Health Security at the Australian Department of Foreign Affairs and Trade for their funding and support. Click the SEALAB logo below to find more information on their activities.
Meet the Trainers
Sandy Walker, MSc (Public Health), BSc (Hons) - Senior Scientist

Passionate about public health particularly in the Asia Pacific region; Sandy lived in the Philippines for 5 years and worked at WHO's Western Pacific Regional Office in Manila strengthening the capacity of diagnostic laboratories in member countries.

As Senior Scientist, Sandy supports laboratories to design and implement QA processes, such as EQAS, QC and QMS to deliver high quality infectious disease test results to patients and support healthy communities. 

Sandy has been working in the quality assurance of infectious disease testing for more than 20 years and is an expert on QA methodologies. She has worked in many countries as an international technical expert, empowering in-country colleagues in improvements in testing processes and contributing to improvements in global testing guidelines. 

Vee Armstrong, HNC (UK) Medical Laboratory Sciences - Senior Scientist

Previously working in the Blood Service industry as the National Quality Manager, and as a consultant providing Quality and Regulatory training and support to countries throughout South-east Asia; Vee has extensive experience in quality management systems, GMP and regulatory affairs. Vee has also collaborated with WHO in a number of activities, including the development of guidance documents such as the guidance on centralisation of blood donation and testing. 

As a member of the Scientific, Consulting and Training Team, Vee plays a key role in the SEALAB project. This role includes the delivery of virtual and on-site training in QMS and ISO 15189 requirements to testing laboratories in Cambodia and Laos.  Additionally, on-site QMS assessments have also been carried out at the laboratories in Cambodia with the aim of supporting them towards ISO 15189 accreditation.

Innocent Mupunga, PhD (Medical Sciences), MSc, HBMLS - Senior Scientist

Innocent has extensive experience consulting and training in quality management systems, setting up laboratory services and method development and validation. 

He has previously worked as Medical Scientist and Laboratory Manager in both public and private health laboratories in Zimbabwe and Botswana where he led laboratories towards ISO 15189 accreditation. Innocent supported provincial and district health laboratories in Southern Africa on their journey towards ISO 15189 accreditation using the SLMTA training program and SLIPTA checklists through scientific consultancy, training, and mentoring.

Having also worked as an Adjunct Lecturer in Medical Laboratory Sciences at one of the Universities in Botswana; he has authored scientific research publications focusing on infectious diseases, public health, and toxicology. 

As a member of the Scientific, Consulting and Training Team, Innocent plays a key role in the SEALAB project. This role includes supporting laboratories in Cambodia and Laos through delivery of virtual and on-site training in QMS and ISO 15189 requirements to testing laboratories. 
NRL have partnered with numerous government, NGO and funding bodies to deliver capacity building programs.